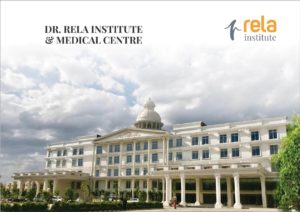 I have noticed that a large number of liver transplant patients and patient parties are confused about the various steps leading to a liver transplant (LTX). We have been there too and hence, I decided to write this unofficial guide (disclaimer below) to help you a little. This guide is based on our experience at the Rela Institute but it should loosely apply to a transplant at any other hospital.
As you can understand, this is just a guide and you need to verify everything from the concerned people at the institute.
Note: I will refer to Dr. Rela Institute and Medical Centre as RIMC in the following note. I will also refer to you as the patient. If you are the attender for a patient, please adjust accordingly.
Diagnosis of the Liver Condition
Generally, you will be seeing your family doctor or the local specialist in your city who might suggest that you have a serious liver problem and refer you to RIMC. When you come to RIMC, you might be interested to see Dr. Rela first because he is an authority and highly reputed liver transplant surgeon. A typical signal of the liver problem is ascites, a condition in which lots of fluid gets accumulated in the stomach and legs.
Please note that a senior doctor under Dr. Rela will see you first. This is not a problem. The doctor needs to note your medical history and assess the present condition. He will also recommend some tests to get a clear picture of your present medical condition.
Once these are ready, the doctor will refer you to Dr Mohamed Rela if he thinks you need a liver transplant. Dr Rela will take the final call about your treatment plan.
In some cases, you may have some condition like ascites (fluid accumulation in the body, mainly stomach), high Bilirubin, out of range kidney parameters like Creatinine, Sodium, Potassium, etc. which might need urgent treatment. You may need to get hospitalised in such cases for regulating these. A liver transplant will only be possible after these conditions are treated and your health is brought under control.
Liver Transplant Options
If a liver transplant has been recommended for you, you have 2 options:
a. Living Donor Liver Transplant (LDLT). One of your immediate family members (mother, father, grandparents, spouse, siblings, children, etc) can donate a part of his / her liver which will be put in your body after taking out your ailing liver. The doctors claim that this is extremely safe for the donor whose liver grows back to full size in about 2-3 months.
This is a preferred option as the transplant can happen sooner and on a planned schedule. The chance of success is very high because the doctors can thoroughly evaluate and match the donor's liver with your body.
b. Deceased Donor Liver Transplant (DDLT). If you don't have a close relative who can donate a part of his/her liver, you need to enroll for a deceased donor (someone who had a brain death or met with an accident).
The waiting time can be quite long as there is a waiting list in every blood group and the date of operation is also uncertain as the availability of an organ cannot be predicted in advance. Some patients become quite sick while waiting for the turn and hence, you should opt for LDLT if you have a donor.
Liver workup (patient evaluation)
Once the treating doctor confirms that you indeed need a liver transplant, you need to meet transplant coordinators who will organise a thorough evaluation (they call it liver workup) of your overall health condition.
The evaluation covers a large number of tests that are carried out to assess that you are fit for the liver transplant and there are no other health conditions that can create complications during the major operation. You can get the workup done on an out-patient basis (no admission) or in-patient basis (admitted at RIMC) depending on your convenience and health condition. You will have to undergo several blood tests, cardiac tests like an angiogram, tests for different viral and bacterial infections, and like.
After the tests, a committee of doctors reviews the results and confirms whether you are fit for a transplant. They may also recommend further tests if they have any doubt about a certain health condition.
If you are opting for LDLT, the donor also needs to be evaluated for fitness to donate (part of) his liver.
Cost of Liver Transplant
Please note that the liver transplant is an expensive operation and there are several pre-operation and post-operation expenses. Some of these are:
1. Different tests and treatments required before the doctors' team confirm that you need a transplant.
2. Liver workup (recipient evaluation). There is a package for this (currently around 1.5 Lakhs).
3. Liver workup of the donor. There is a package for this also.
4. Some additional tests that may be recommended after the workup and are not covered under the package but are needed for some patients.
5. The cost of the liver transplant. This is around 24 lakhs for LDLT and 27 lakhs for DDLT (might have changed, please verify). This covers a certain number of days in the ICU and a few days in the room. If you have to stay in the hospital longer than what the package covers, you have to pay for the room and other expenses like medicines separately.
6. Cost of tests and medicines to be taken after the operation. This is quite high initially (around Rs 1 lakh per month) but goes down after a few months. There are some medicines you have to take life-long.
7. There can be considerable additional spend if you need a hospital admission due to some complication (though not so common, some people have spent several days in the ICU after the operation, beyond the free stay covered in the package).
7. Cost of travel, stay, food, transport, etc while you stay in Chennai (and other operating centres, if applicable).
8. Any other incidental expenses.
Note: Every patient is different and the pre-operation and post-operation journeys are different for each. Some patients have gone through this without any hiccup and got discharged much sooner than other patients. Some patients get quite sick and need longer duration treatment. Treat all figures as indicative only.
Deposits before the liver transplant
You will need to deposit around Rs 5,00,000 for getting enrolled under the liver transplant program after you have been cleared for the LTX.
Once you reach #3 in the waiting list under the DDLT program, you will need to deposit the balance amount. Please find out the payment plan for LDLT from the co-ordinators.
Feel free to deposit the required money. While you do not get any interest for this, I have noticed that it is easy to get a refund by doing some paperwork like affidavits if you wish to opt-out of the LTX program for some reason. However, please verify this with the co-ordinators.
Please note that under the current income tax rules, you cannot deposit Rs 2,00,000 or more in cash. You have to pay through NEFT, RTGS or credit cards.
Operating Centres
Most of the patients prefer to get operated in RIMC. However, this is only possible if you are having LDLT. For DDLT, getting operated in RIMC is generally not possible.
To increase the chance of getting an organ for DDLT, RIMC has a joint venture with several other hospitals in and around Chennai (like Meenakshi Mission and Velammal Hospital in Madurai). This is because an accident may occur near those places and an organ may become available there. Similarly, if a patient has had a brain death there, the family may agree to donate the organs.
After your liver workup is done, a committee of doctors evaluates your reports and based on your condition, recommends a few operating centres out of the ones they have a joint venture with. It is fine to enrol at these centres also because the transplant is carried out by surgeons of RIMC only and is heavily monitored by their team. All pre-operation and post-discharge treatments are done at RIMC.
Paperwork
The coordinators' team at RIMC will help you understand and complete the paperwork required for getting enrolled for the liver transplant (LTX).
For DDLT (Deceased Donor Liver Transplant)
After you have been declared fit for DDLT, you have to get enrolled under Tamilnadu Organ Sharing (TNOS) registry and you may need to submit a few drafts of Rs 1,000 or so for covering the enrolment fee. The coordinators handle this after collecting the required documents from you.
For LDLT (Living Donor Liver Transplant)
There is a lot of paperwork required for LDLT cases. After both the recipient and the donor have been declared fit for the transplant, both of you will have to travel to your home state and complete paperwork including appearing in the court and making some declarations. I am not fully aware of this and you need to understand this from the co-ordinators.
The recipient also needs to appear in a local court for some declarations. I again encourage you to find out the details from the coordinators' team.
Diet
The prescribed diet for each patient is different and your diet will be based on your health condition. However, in general, the doctors may ask you to take a low-salt diet and low intake of water to prevent increased ascites and pressure on your kidneys. Your treating doctor and/or the dietician will be able to advise the correct diet plan for you. You also need to avoid eating certain things like fruits if your Potassium level is high.
Post Operative Care
After you are released from the hospital, you need to get your homeroom fumigated (sterilised) before shifting. Discuss with the coordinators; they will help you to get this done.
You will be on medicines that suppress your immunity so that your body does not reject the new liver which it treats as a foreign organ. You need to be very particular about taking the advised medicines at the correct time, eat freshly cooked food only and avoid going to places that are not recommended. The coordinators will give you detailed advice about these precautions. You need to do the breathing exercises like the respirometer exercises and walk as much as you can, based on your fitness level.
Post Operation Transplant Clinic
You will have to regularly get the required blood tests done and visit the post-transplant clinic at the hospital, as suggested. Don't skip the tests and clinic visits as this may cause problems with your recovery.
You need to get the dressing done regularly (part of the transplant clinic). The doctor will advise you about wound recovery and remove the stitches/staples at an appropriate time. Please discuss when you can have a regular bath which will help you feel fresher and keep the stitch area cleaner.
Each person recovers at a different pace and some people need periodic admissions to correct major issues in their health if any. However, most patients recover without any major hiccups or hospitalisation.
Back to Home Town
After about 6-10 weeks of the surgery, when the doctors will find your recovery to be good and the health to be stable, they will discharge you from the Transplant Clinic. This means you don't have to visit the clinic regularly and can go to your home town (if you had come to Chennai for the operation from another city).
You need to get some blood tests like Tacrolimus level (TAC level), Liver function Test (LFT), Renal Profile (RP2), done periodically (as suggested by the doctors) and send the reports to the organ transplant co-ordinators' email address. When sending these reports, you must include the list of medicines you are currently taking so that the doctors can review the same and suggest the new list of medicines.
Update: If you have low thyroid and are taking Thyronorm or a similar medicine, make sure that you have tea/coffee/milk after at least 30-45 minutes gap. You should take medicines like Sucralphate, Rantac, Calcium, Iron only after a gap of about 4 hours or else, the Thyroid medicine might not be fully effective (as advised by an endocrinologist). See details here.
Mental state
The LTX is a fairly complex operation. However, the success rate at RIMC is very high and there is a very good chance that you will live a long and healthy life after you have recovered from your LTX operation.
It is extremely important to stay positive during the long treatment process. Don't let despair take over if you are feeling sick or are having to undergo different procedures before or after the operation.
Have trust in your God and the doctors who are treating you. A positive outlook will make your journey smoother.
Disclaimer
Please note that I have compiled this guide in my personal capacity to help you as a patient or a patient attender and is not an official guide from Rela Institute & Medical Centre. Any information in this guide cannot be treated as professional advice or an official statement of RIMC.
I will not be held responsible for any actions you take or do not take based on this advice. Please verify everything from the relevant officers at RIMC.