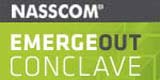 You have already seen some takeaways I had from the Nasscom Emergeout session at Delhi. Here are some more.
With good innovation, brand and size limitations can be tackled.
Intel has an app centre for Netbooks (www.appup.com).
We are at crossroads – need to combine mobile usage with computing.
Location based services are very important.
Here are some more notes from different sessions focussing on entrepreneurial spirit:
Entrepreneurs need to have ability to do things in parallel (don't spread yourself too thin though).
80/20 does work – don't look for perfection – improve things gradually.
Focus on the broad plan – all detailed business plans get haywire on the first contact with consumers.
It is very important to have a good understanding of the consumer/customer psyche and needs/problems.
A local contact in the geography you are serving, can be very important in understand the customers and improve the speed at which you succeed.
Try to validate your key assumptions with customers. Fail fast, if you must.
Hope you will be able to employ some of these and improve your results with the implementation.