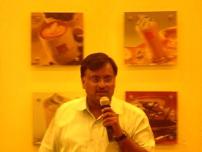 Today we have had a lovely interactive session with about 150 bloggers from Kolkata and exchanged lots of interesting ideas. I am the Rentablogger guy but quite frankly, I did not even know there are so many active bloggers in Kolkata 🙂
I made a small presentation about how bloggers can monitor, manage, and protect their online reputation and I am happy to share it with you too. It is very important that we follow certain precautions when posting online because "What we post once, stays on the Internet forever!". You don't want to jeopardise that job, friendship, or marriage because of what you posted when on a high.
Feel free to post your comments whether you like it or disagree with some point made.